In Yitro, this week's Torah portion, we get the Ten Commandments. In simple terms it seems that the commandment are directives as to what we should or should not do. For this reason that first commandment seems complicated. There we read, "I the Lord am your God who brought you out of the land of Egypt, the house of bondage." (Exodus 20:2) This seems more like a PSA than a law. Most interpret this as a negative precept "not to entertain the idea that there is any god but the Eternal." ( Rambam Minyan Mitzvot) Clearly the belief in God is foundational to the Bible and I know that they believed in other gods in Egypt, but I have trouble imagining that this was first message that God wanted to give this band of recently liberated slaves. If this is the case,, what is the true meaning of this commandment?
At the simplest level in this first commandment God is identifying God's self to the Israelites. As if God is saying, "I am Me". In this context, it is less of a injunction against believing in other gods and more of God showing up as God's authentic self. It resonates with the words of Polonius when he said:
This above all: to thine own self be true,
And it must follow, as the night the day,
Thou canst not then be false to any man.
Farewell, my blessing season this in thee! (Hamlet, Act-1, Scene-III)
To these slaves who have been told who they are and who they are supposed to be this is a powerful message. God is modelling what it means to be free. Show up as who you want to be. As Brené Brown says:
Owning our story and loving ourselves through that process is the bravest thing we'll ever do.
That must have felt liberating. This ideating set a foundation of authenticity upon which to build the rest of the commandments, Torah, and Jewish life.
I have been thinking about this recently during the entire Bernie Meme experience after the inauguration. Most people might have been offended by being the butt of all of these jokes, but not Bernie. He is the model of authenticity. Bernie knows exactly who he is. He was right on brand. Not only was Bernie not offended, he used the moment to get attention for the causes he believes in and the meme to sell merchandise which earned over $1.8 Million for Vermont charities he supports.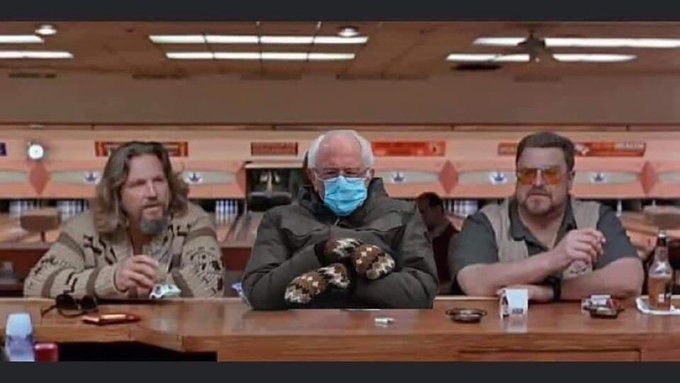 On another level there might be deep connection between being true to yourself and the prohibition to believe in other gods. As Oscar Wilde said, "Be yourself; everyone else is already taken." If God knows who God is and we know who we are, everything else is already taken.