A few months ago there was a big tumult regarding the Women's March of Washington. Three of the four lead organizers had attended events hosted by Nation of Islam leader Louis Farrakhan, who has made a living off of making antisemitic remarks.  Perceptions that the leaders of the Women's March had failed to condemn the rhetoric and subsequent accusations of antisemitism within the organization itself led to former co-founder Teresa Shook to call for their resignations and were followed by the disassociation of numerous state chapters. By December 2018, The New York Times reported that "charges of antisemitism are now roiling the movement and overshadowing plans for more marches."
Questions about alleged antisemitism connected to the Women's March organizers have swirled for months in response to an article in online Jewish magazine Tablet. While the organizers had repeatedly denied all accusations of misconduct or using inappropriate speech, the issue resurfaced when two of the March's organizers appeared on "The View". During the show, March co-president Tamika Mallory was asked why she posted a photo of herself and Louis Farrakhan on Instagram with a caption indicating her adulation of this hatemonger. "I didn't call him the greatest of all time because of his rhetoric," Mallory responded. "I called him the greatest of all time because of what he's done in black communities." Pressed on the issue, Mallory said, "I don't agree with many of Minister Farrakhan's statements," but when asked directly if she condemned them, she demurred. "I don't agree with these statements," Mallory responded. "It's not my language, it's not the way that I speak, it's not how I organize … I should never be judged through the lens of a man."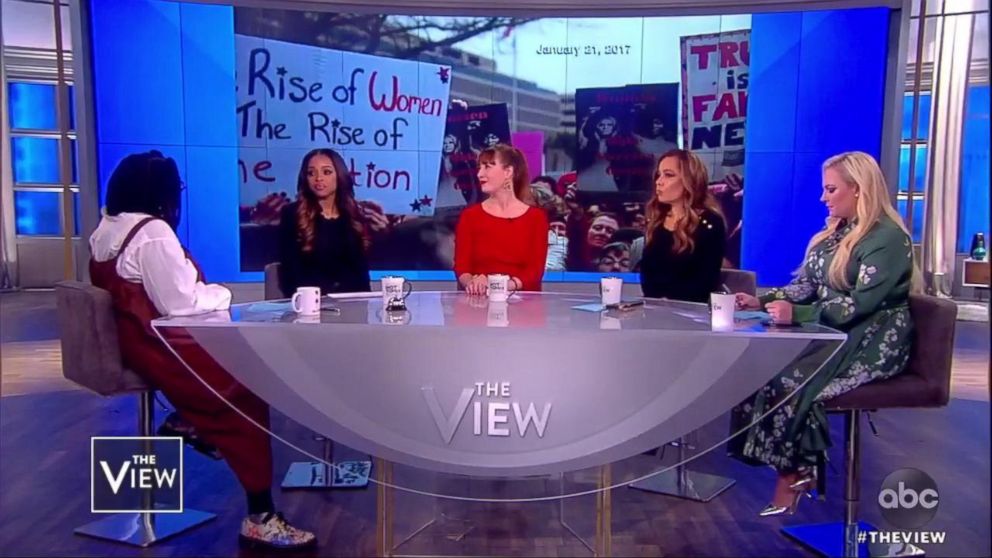 What are the implications of judging a woman through the lens of a man? What is the right lens to judge a person who brings on a foe as an ally? What are the implications of a cause that I find to be just even if the allies brought together to support this cause are deplorable?
There were many voices in the Jewish community who were so triggered by the larger context of rising antisemitism that they could not see through that to the importance of the cause of the March. While I deeply appreciate the sensitivity to an association with Farrakhan being too much, I am curious about those who were against the March on the merits of it not reaching their standards of a purity of allyship. It has been noted by others that it's a pernicious privilege to demand that a group of revolutionaries trying to make change a system maintain a purity of who they ally with for their cause.
This privilege makes sense from the perspective of Chanukah. That is to say that the Hashmonaim were revolutionaries who were fighting for their lives.  After the Maccabees beat their enemy and rededicated the Temple they found one cruse of pure oil for the Menorah. This oil was enough to last for one day, but it lasted for eight days, which was enough time for them to produce more pure oil. To the Maccabees this miracle was proof that God approved and sanctioned their military efforts. This notion of purity got expanded by the Rabbis future celebration of Chanukah. We learn:
Our Rabbis taught: The precept of Chanukah [demands] one light for a man and his household;  and the mehadrin- more beautiful [kindle] a light for each member [of the household]; and the mehadrin of the mehadrin – Bet Shammai maintain: On the first day eight lights are lit and thereafter they are gradually reduced;  but Bet Hillel say: On the first day one is lit and thereafter they are progressively increased. (Shabbat 21b)
The most beautiful expression of this ritual is when everyone shows off the purity of God's sanctioning the Maccabees fight against the Greeks.
This paradigm of Chanukah stands juxtaposed Purim. Similar to the Maccabees with the Greeks, Esther and Mordechai were fighting the existential threat of Haman. Both holidays tell the stories of a small group of people uniting to defeat the bloodthirsty forces of a much larger and more powerful oppressor. But where Chanukah represents an aesthetic of Jewish purity over Hellenistic physical beauty, Esther represents the opposite. She only became the queen by winning a beauty pageant. Esther uses her beauty to save her people, and most importantly to our discussion here, to do this holy work she made some interesting allies. Throughout her efforts he relies on the eunuchs. For a community that has not historically looked on intermarriage so positively we are all too happy to overlook her relationship with Ahashverosh. The strangeness of who she portrays as her ally comes to head in her second banquet with Haman and Ahashverosh. There we read:
Queen Esther replied: "If Your Majesty will do me the favor, and if it pleases Your Majesty, let my life be granted me as my wish, and my people as my request. For we have been sold, my people and I, to be destroyed, massacred, and exterminated. Had we only been sold as bondmen and bondwomen, I would have kept silent; for the adversary is not worthy of the king's trouble." Thereupon King Ahashverosh demanded of Queen Esther, "Who is he and where is he who dared to do this?""The adversary and enemy," replied Esther, "is this evil Haman!" And Haman cringed in terror before the king and the queen. The king, in his fury, left the wine feast for the palace garden, while Haman remained to plead with Queen Esther for his life; for he saw that the king had resolved to destroy him. When the king returned from the palace garden to the banquet room, Haman was lying prostrate on the couch on which Esther reclined. "Does he mean," cried the king, "to ravish the queen in my own palace?" No sooner did these words leave the king's lips than Haman's face was covered. (Esther 7:3-8)
Esther only request is the she and her people not be killed. She would not have bothered him if they were "just" enslaved. The King only acts when he perceives that Haman, who has been courted by Esther to these exclusive banquets, is trying to have sex with his wife in his palace. This seems incredibly strange that this is what provokes action and not his trusted adviser wanting to kill his queen or commit genocide. Ahashverosh is only moved to action when he sees his wife taking a strange bed-fellow.
Both Chanukah and Purim are stories of revolution and salvation. But while Chanukah is a story of purity, Esther is a story of persistence. Esther does whatever it takes to be successful, including using her beauty and not her purity to make strange bed-fellows. While people can still chose a Chanukah lens over a Purim lens to critique revolutionary activity, it should be mentioned that the Hashmonaim were roundly criticized by the Rabbis and were similar to today's Taliban killing many brothers in name of ritual purity.  It was only after the privilege of winning that the Maccabees would claim that their fratricide was pure.
Coming back to our times we need to say clearly that women's rights are truly in danger and we need to come together to fight this good fight. While Farrakhan and the larger rise of antisemitism is horrifying and needs to be blotted out, I think we need to be more understanding that revolutions by design get messy. Before we judge the leaders of the Women's March too harshly in light of the Chanukah story, we need to see that their "misconduct or using inappropriate speech" might just be these women taking a chapter from Esther's original Women's March.
Purim Sameakh- Have a revolutionary holiday.