We learn in  Shoftim, this week's Torah portion, the basic elements of what the Torah says about giving testimony. There we read:
One witness shall not arise against a man for any sin or guilt that he may commit; according to two witnesses or according to three witnesses a matter shall stand.(Deuteronomy 19:15)
Thus, two witnesses provide conclusive proof of reality, but one witness does not. With two or three witnesses we can enter something into the public record.
I was thinking about this today when reading this particularly moving piece in the JTA article on the Pittsburgh Post-Gazette. As reported there, the Pittsburgh Post-Gazette donated the $15,000 they won for their Pulitzer Prize for their coverage of the deadly anti-Semitic shooting to the Tree of Life synagogue. On Aug. 29, in the Post-Gazette newsroom, Executive Editor Keith Burris presented a $15,000 check to Rabbi Jeffrey Myers and Samuel Schachner, president of the congregation. As reported by Cnaan Liphzhiz
"We feel bound to you and your congregations – by memory and duty," Burris said in a speech. "And we offer you, in humility, our service – as scribes and witnesses."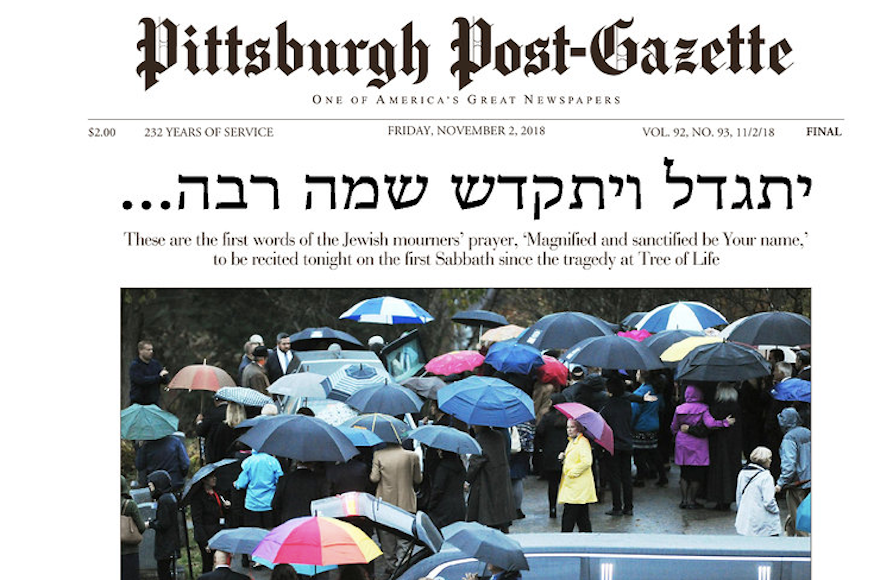 What a menschy thing to do? What a profound thing to say? In a time when people are disregarding the press as "Fake News", it is important to recall the critical role a free press plays in preserving  a democratic society. The news is our  public record. Burris is right, the members of the press need to be  our "scribes and witnesses". Without the humble service of a free press our society would not have justice and we would not maintain our freedom.