In getting ready for Rosh HaShanah I have been giving some thought to the strange year which was 5779. From the shouting in synagogues to demagoguery in the White House is has been a tough year. One thing that stands out this year is a rise is antisemitism domestically and abroad. From political antisemitism like Corbyn's Labour Party and Malaysian Prime Minister Mahathir Mohamad to the physical violence we saw in Pittsburgh and Poway as Jewish people we find ourselves being hated by the left, the right, all over the world. From Cohen to Kushner and Adam Schiff to Volodymyr Zelensky we are in the thick of much of our current crisis. While no one knows how this will all go, it does not take the Vilna Gaon to realize that this will not ends well for us. Given the current context it is hard to imagine the scenario in which we will not be blamed.
Since the advent of Elul I have been thinking about this resurgence of antisemitism in the context of the daily blowing of the shofar? All of these blasts are leading us to Rosh HaShanah which is filled with the blowing the Shofar. And why do we blow Shofar on Rosh HaShanah? On one level we could see that Rosh HaShanah is the trumpets announcing God's coronation. Is Rosh HaShanah just another expression of nationalism? How is our celebration of our King with shofar blasts categorically different from any other jingoism? Is it so different from China's celebration of 70 years of communism with all of the tanks and missiles on display?
In fact there are a number of different reasons given for blowing shofar on Rosh HaShanah. One of the more interesting reasons comes from a discussion in Gemara of Rosh HaShanah where the Rabbis were trying to determine the length of time a shofar blast should last. The Mishnah suggest  that a terua should be equal to the length of three whimpers. There we learn:
Isn't it taught in a baraita that the length of a terua is equal to the length of three shevarim, i.e., broken blasts, which presumably are longer than whimpers? Abaye said: In this matter, the tanna'im certainly disagree. Although the first baraita can be reconciled with the mishna, this second baraita clearly reflects a dispute. As it is written: "It is a day of sounding [terua] the shofar to you"(Numbers 29:1), and we translate this verse in Aramaic as: It is a day of yevava to you. And to define a yevava, the Gemara quotes a verse that is written about the mother of Sisera: "Through the window she looked forth and wailed [vateyabev], the mother of Sisera" (Judges 5:28). One Sage, the tanna of the baraita, holds that this means moanings, broken sighs, as in the blasts called shevarim. And one Sage, the tanna of the mishna, holds that it means whimpers, as in the short blasts called teruot. (Rosh HaShanah 33b)
Simply to quote Numbers and say we blow shofar on Rosh HaShanah because it is the day of blowing shofar is tautology and does not add much insight. In comparison it is interesting to make the connection to the wailing of  Sisera's mother. As we learn in the book of Judges, Sisera commanded nine hundred iron chariots and oppressed the Israelites for twenty years. After the prophetess Deborah persuaded Barak to face Sisera in battle, they, with an Israelite force of ten thousand, defeated him at the Battle of Mount Tabor. After losing the battle, Sisera fled to a settlement where he was received by Yael. She brought him into her tent with apparent hospitality and gave him milk. Yael promised to hide Sisera and covered him with a rug; but after he fell asleep, she drove a tent-peg through his temple with a mallet, her blow being so forceful that the peg pinned his head to the ground. After this we read:
Through the window peered Sisera's mother, Behind the lattice she whined: "Why is his chariot so long in coming? Why so late the clatter of his wheels?"  (Judge 5:28)
It is strange enough that the Bible depicts this general's mother there at the window watching her son die, but it seems even more peculiar that we evoke the sound of the mother of our enemy on Rosh HaShanah. Why?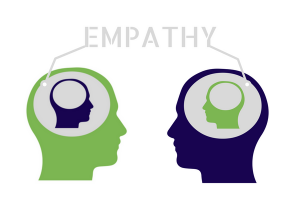 While it is easy to relate with our family, community memberd, or those who are like us, it can hard to empathize with those that are different from us. Hearing to the voice of the mother of an antisemite in the sound of the shofar can help us build a profound foundation of empathy. We can never forget that every child regardless of what they turn into or do started life with a parent who loved them. So yes we need to call our and confront antisemitism in any form and from any source, but even with this vigilance we cannot forget that even Sisera had a mother who deserves our empathy. If we can hear that voice we can build on that love. As Martin Luther King Jr. said, "Darkness cannot drive out darkness: only light can do that. Hate cannot drive out hate: only love can do that." We will not uproot antisemitism with more hedonistic hatred or nihilistic nationalism. The sound of the shofar is an invitation for us to cut through the darkness and build on the light of empathy. On Rosh HaShanah, the Day of Judgement, we must work hard and unearth ahavat chinam, a love without cause.  We need to construct a foundation of universal and deep empathy upon which we can build a better world. If we can do this we will be judged favorably in 5780.
Shanah Tova. Maybe all be blessed to do our part to build a foundation of universal and deep empathy.