I have many memories of painfully sitting on the floor at camp during Eicha reading, but alas those are sweet memories in that they remind me of being in community. This year during Covid-19 I read Eicha and think about Tisha B'Av differently. What is the meaning of Tisha B'Av without community? There at the start of Eicha we read:
How does the city sit alone, that was full of people! How has she become as a widow! She who was great among the nations, and princess among the provinces, how is she become tributary!  She weeps sore in the night, and her tears are on her cheeks; she has none to comfort her among all her lovers; all her friends have dealt treacherously with her, they have become her enemies. Yehudah is gone into exile because of affliction, and because of great servitude; she dwells among the nations, she finds no rest; all her pursuers overtook her within the straits. (Lamentations 1:1-3)
For five months we have been sheltering in place and like Jerusalem. It is interesting to reflect on how this theme of sitting alone runs throughout this fast day. Is it possible that the whole experience of Tisha B'Av is itself touches on this idea of social isolation?
We should start to answer this question by looking at the Seudah HaMafseket– the "separating meal" eaten before the fast. The ritual is orchestrated in a very careful way. In Shulchan Aruch we learn:
There are those who are careful to not sit in groups of three to eat the pre-fast meal, so that they are not obligated in a Zimun (for grace after the meal), rather everyone sits alone and makes grace to themselves. (Sh"A O'H 552:8)
We enter into the holiday eating by ourselves in isolation. We maintain this solitude throughout the day. As we see in the Shulchan Aruch:
You do not ask for peace (greet) of your fellow on the 9th of Av, and if commoners who do not know give peace (say hello), you respond to them in a hushed tone and heavy disposition. (Sh"A O'H 554:20)
There is clearly an experience of Tisha B'Av that is founded on our solitude. But why?
The image of the city sitting alone that we saw at the start of Eicha is revisited later in the book. There we read:
Let him sit alone and keep silence, because God has laid it upon him. Let him put his mouth in the dust, if so be there may be hope. (Lamentation 3:28-29)
Here amidst all of the darkness and sadness of Eicha we see a rare glimmer of hope. It seems having to sit in silence and isolation is a means to salvation. This idea is hauntingly similar the CDC's Advise to Prevent the Spread of COVID-19. Being responsible and practicing social distancing we will stem the spreading of this plague and be our salvation. Until we find a vaccine that is our only hope.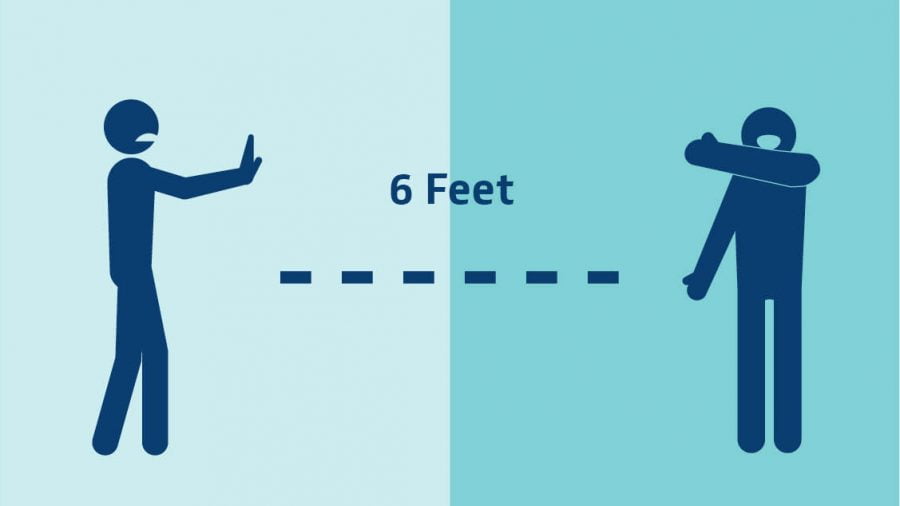 -See text sheet on the topic Tisha B'Av in a Time of Isolation