It is safe to say that I am into Jewish summer camp. Between my 7 summers as a camper, 8 summers on staff member in that camp, 2 years as a Shaliach in Minsk running camps there, and 12 years at the Foundation for Jewish Camp, I have spent close to 30 summers at camp. I think it is safe to say that I am in the "10 for 2" club. I work all year for the summer. With that in mind, this summer with all of the Covid camp closings was particularly hard for me.
I was thinking about this today as we celebrate Tu B'Av, the 15th day of the Hebrew month of Av. This is supposed to be one of the happiest days of the year. But what are we celebrating? The Gemara shares six historical happy events that happened on this day.  One of those is particularly interesting to me now. There we read:
Rabba and Rav Yosef both say: The fifteenth of Av is the day when they stop cutting wood for the arrangement of wood on the altar. It is taught in a baraita that Rabbi Eliezer the Great says: Once the fifteenth of Av came, the force of the sun would weaken, and from this date they would not cut additional wood for the arrangement, because wood cut from then on would not dry properly and would be unfit for use in the Temple. Rav Menashe said: And the people called the fifteenth of Av: The day of the breaking of the sickle, as they did not need the lumbering tools until the following year. (Bava Basra 121a-b)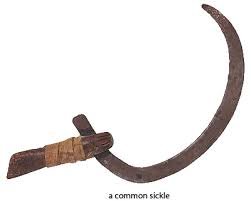 In this sense Tu B'Av is celebrating the begining of the end of the summer. Most years of my life this has been a sad time of the year, but this year I am actually very happy for this horrible summer to be over.
As we put the summer away, what does the fall have in store for us? What will  school and the High Holidays look like with Covid-19? I am not alone in wanting a vacine so we can rebound quickly from Covid. As much as we are instructed to break the sickle and put the heat of the summer behind us, I know that I am not the only one yearning for the start of summer 2021. I am looking forward to putting that sickle back together to go back into the forest and get back to work. This living "22 for 2" is hard, but for many the first day of camp next year will actually be the happiest day of the year.
-another piece on Tu B'Av- Bystander Effect: Tu B'Av and Kitty Genovese