My son Yadid was asked to give a D'var Torah at his 10th grade Shabbaton. I love how he really thought about the best message for his peers. What does it mean to be in 10th grade? I love how deep and inspiring he is. I love that he is exploring his passions. Enjoy:
In the beginning of this week's torah portion, Noah is described as a tzadik, perfect in his generations; Ish Tzadik Tamim Haya B'Doratav. Why does the Torah write, in his generations- B'Doratav ?
Rashi answers this question saying that in comparison with his own generation Noah was accounted righteous, but if he had lived in the generation of Abraham he would have been nobody of significance. So I had to ask, WHY is Avraham the model Tzadik and WHY is Noah sub par? 
I recently saw a Ted talk by Simon Sinek, that helped me answer that question. He drew this chart to answer his own question, WHY are some leaders able to inspire, while others aren't? And he explained it in the following way: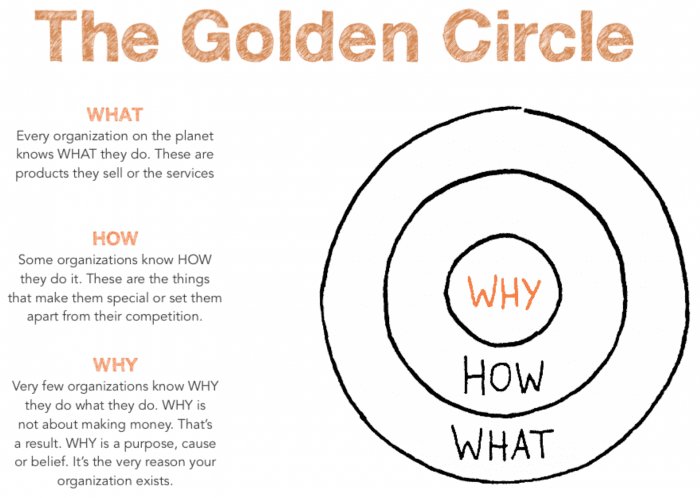 Every single person, every single organization knows WHAT they do. 100 percent 
Some know HOW they do it 
But very, very few people, or organizations know WHY they do what they do. What is your purpose, what's your cause, what's your belief? 
He explained that most people communicate from the outside in, starting with the what, and ending with the WHY. We should be doing things in reverse, like Apple. As Simek says:
They begin by saying everything we do, we believe in changing the status quo. We believe in thinking differently. The way we challenge the status quo is by making our products beautifully designed, simple to use, and user friendly. We just happen to make great computers, want to buy one? There's nothing that makes Apple structurally better than any other company, their competitors are all equally qualified to make these products. In fact DELL tried this. They released an mp3 player. they make perfectly designed, quality products and nobody bought one. We can't even imagine buying a MP3 player from DELL, WHY would you buy a MP3 player from a computer company, But we do it every day. People don't buy what you do, they buy WHY you do it. The goal is not to do business with everyone who needs what you have. The goal is to do business with people who believe what you believe. 
So if Simon Sinek were to answer the question, WHY is Avraham the model Tzadik and WHY is Noah sub par? 
Noah is told to build an ark, that is the WHAT. He is given instructions, that is is the HOW. It is only after this that God even informs him of God's plan to destroy the world. The WHY is to save the animals and humanity from the flood, but it comes after the WHAT and HOW. As we will see next week, Avraham starts with WHY. Lech Lecha– go to yourself, become your authentic self. HOW? Journey from your home of origin. WHAT? Build a great nation. Sinek would most likely say that Noah was like DELL. He went from the outside, in- WHAT, HOW, WHY whereas Avraham is like Apple- going from the inside out, WHY then HOW, then WHAT.
In preparing this Dvar Torah I thought to myself, what do all of us have in common, we are all in 10th grade. Last year 9th Grade was about orienting to high school. Next year is about the SATs and ACTs. And 12th grade is about college and Israel. But what is 10th??? It could be nothing, just a WHAT- going to class. This year could easily pass us by. Or, if we take advantage, 10th grade could be, no, should be the year we find our WHY!
I have been struggling to find my WHY, but after my dad pressured, day after day, I think I'm getting closer. My WHY is that I want to inspire people, my HOW is developing my public speaking skills, and my WHAT often is me talking with people, chilling, and right now, my WHAT is this Dvar Torah. Now I hope to inspire you to move beyond Noah, beyond the WHAT and HOW perspective, and think like Avraham, starting with WHY! 
Some of you might look at me asking "I don't have my WHY, so what should I do?" My suggestion for you is to try one on! You might be worried that you will try out a WHY and realize it's not for you, but as we learn from the sage, Rick Sanchez, from Rick and Morty, "It's about the journey, not the destination" In the pursuit of our WHY's, we will learn how to live passionately, inspiring others. 
Mark Twain said, "the two most important days in your life are when you are born and when you find out WHY." so I ask of us, all of us, What is our WHY!??!   Thank you, and good shabbas. 
I am so proud of his guy. Clearly our family are Sinek Hassidim. Here are other pieces I have written over the years on his Torah: